Company Overview
SkySoft is a young company, founded in 2007 by a few like-minded people who have a strong combination of content and technology expertise.
Our mantra "Provide value to customers by building higher efficiencies at low cost and unmatched quality for complete customer satisfaction."
We work with our clients to identify value in their legacy content and convert it to various formats thus identifying new markets for them and add to the company's top line.
Our business objective is to help our customers revisit their high-cost, high-maintenance legacy systems and processes and help build efficient and low cost solutions resulting in lower TCO and higher ROI.
Our quality focused approach enables us to provide high quality deliveries leading to complete customer satisfaction.
Why SkySoft?
The Content Partners of choice to strengthen your content portfolio for it to add to your corporate top line
XML Centric Content Solutions
Quality focused processes and deliveries
Multi Platform App Development
Thought Leadership
Domain expertise and industry best practices for content conversion & management and application development
Passion
A relentless focus on customer success to meet complex business and content goals by finding the RIGHT solution for you
Technology Focus
Using automated tools and processes for content solutions leading to innovation and lower TCO and faster time-to-market
Content Services We Offer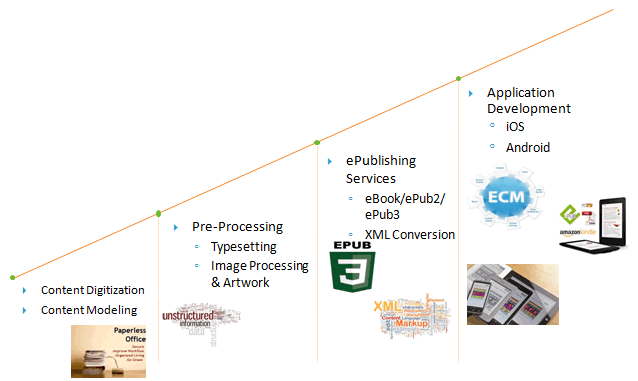 Content Digitization
Pre-Processing
A complete Pre-Press solution for variety of information providers and categories
Typesetting for wide range of subject areas

STM Books
Journals
Academic/Educational Books
Fiction/Non-Fiction
Children Books
Professional Books

Image Processing & Artwork to create illustrations as required by the customer
ePublishing Services
XML centric approach for conversion of content from multiple input formats to eBooks/ePub2
Expertise in ePub3 creation with animation, voice-over and other interactive features
Cost effective XML conversion services for both structured and unstructured input formats
Converting legacy content by scanning/keying as well as automated transformation
Content transformation for archival purposes
Content Modeling
Analyzing a representative sample of input documents
Identification and documentation of unique elements and their relationships
Documentation and design of content model in the form of DTD or W3C Schema along with extensive documentation
Our Value Adds
Focus on Quality
With the aim
Process Automation
Our combined expertise on content and technology gives us an edge over our competitors as we continuously look for ways to automate the conversion/digitization process.
Continuous Improvement Initiatives
At SkySoft we continuously look at providing value to our customers through continuous improvement initiatives in our engagements. Our aim is to cannibalize our own revenue with the aim of a longer term relationship with our customers.